Professional Résumé
Wentworth C. "Chappy" Hill II
3777 Frazier Ct.
Inkster MI 48141
Message: 313.334.0847
Cell: 313.704.2086
Email:chappyhill@hotmail.com orchappyhill@yahoo.com
Summary
Semi-Retired Non-smoking, self-motivated, team player requiring minimum supervision, seeking to re-enter full time employment at the entry or experienced level. Exceptional people & communication skills. Will work overtime to complete projects or meet deadlines. Adaptable to change. Willing to assist others in the completion of assignments. ISO 9001® & Continuous Improvement, Cost Reduction conscious and trained.
Extensive hands-on work experience in the Engineering, Architectural & Manufacturing environments, focusing on conceptual Design, Layout, Detail & Assembly of Manufactured, Moving Mechanical, Sheet Metal & Casted or Forged Parts utilizing Vellum and various CAD Systems: AutoCad® v9-2003 (28,000 hrs), Intergraph 32/Microstation® (8000 hrs), MEDUSA® (4000 hrs), SolidWorks® '97-'03 (14,000 hrs), Unigraphics® 2D (2500 hrs) & Solid Edge® 9.0 (1000 hrs) in accordance with ASME-Y14.5-1994 & ANSI Y210.1
Experience
3.08-Present KMart Corp. (Part-time) : Garden City, MI
Nationwide Retail Sales Chain
Task & Customer Assistance Associate

General receiving & stock/re-stock duties.


Assist customers as needed in sales/purchasing of products from Appliances, Sporting Goods, Pantry, Toys, Furniture (all seasons), Automotive, DIY, Electrical, Home Furnishings and Tools.
6.04-5.06 Staff Management (Howard Ternes Packaging) Westland, MI
Tier 1 Automotive Parts Supplier (Ford, Daimler-Chrysler)
Warehouse Utility Person
General warehousing duties (packaging, crating, shipping)
9.01 - 5.03 Coy Industries® Rancho Dominguez,CA
CAD Designer/Drafter - Custom Sheet Metal House
Detail & Dimension flat patterns from formed parts or customer submitted sketches or drawings.
Write CNC programs and tool lists per New Dawn Software (Amada) to manufacture parts.
Layout & Detail Portable Generator Housings.
Create computer BOM's, item masters, material cost sheets & RFQ's.
Generate "As Built" assembly drawings In SolidWorks® 2003 or AutoCAD® 2002
8.99 - 7.01 Angelus Sanitary Can Machine Company® Los Angeles, CA
Sr. Mechanical Drafter (CAD) - Global Supplier of Can Sealing  & Bottle Capping Machines & Parts
Revise or redraw existing drawings IAW ISO 9001® with emphasis on GT&D - ASME Y14.5-1994®.
Verify engineering calculations and determine correct dimensions for manufacture of parts prior to machining.
Prepare inter-changeable, moving mechanical parts for machining using UG® 2D & Solid Edge® 3D CAD.
Perform ECR/ECN/ECO changes per customer request.
Detail & Create Assembly drawings specifying Motors, Pulleys, Gears & related hardware for Can Feed Conveyor Systems.
1.96 - 7.99 Thermal Dynamics Corporation® Ontario, CA
Mechanical/CAD Designer (CAD) - OEM Automotive Heat Transfer Devices
Convert existing VersaCad® drawings & designs to AutoCad® and/or SolidWorks® '99 drawing formats.
Generate customer design changes from drawings submitted by engineering department.
Calculate and document tube bending radii & tube lengths for shop drawings.
Layout, Dimension & Detail packaging configurations for steel rule die (Cardboard)  vendors.
Create & submit formal proposal drawings IAW ASME Y14.5M-1994® for customer approval.
10.89 - 12.95 Fisher-Rosemount Systems, Inc® La Habra, CA
Sr. Systems Designer (CAD)-Distributed Controls Systems
Design, layout Custom Electronic Enclosures for packaging of Analog/Digital electronic hardware.
Define hardware, materials, finishes, heating / cooling, RFI, EMI & EPA specs.
Layout & detail schematic, Cable Harness & Wiring Diagrams of Analog/Digital equipment.
Create and document ISP Block Logic Control diagrams for flat panel analog/digital panels.
Generate and maintain computer BOM's, document ECO's, ECR's, Vendor drawings.
Generate "As Built" documentation packages usingAutoCad® 13 NT, or Intergraph 32/Microstation® CADD systems.
Awarded for cost reduction suggestion which saved company $25,000+ anually in postage (file transfer via e-mail).
Recommended new world-wide supplier (Rittal® Corp) of standard enclosure.
1988 - 1989 Jonathan Manufacturing Corporation® Fullerton, CA
Mechanical Designer (Cad & Vellum) - Commercial/Industrial Drawer Slides
Design, specify & detail custom, Ball-Bearing Slides from sketches, verbal, or customer specs.
Generate computer B.O.M.'s using MANMAN System.
Create detailed manufacturing drawings and setup sequences for roll-forming operations.
Perform and approve First Article Inspections on shop floor prior to production runs.
Setup, test and define load limits.
GenerateStatic Deflection Charts obtained from load limit data to be used in Catalog.
Create engineering drawings on Vellum (Technical Illustration) & AutoCad® 9.
1984 - 1988 Fleetwood Enterprises, Inc® Riverside, CA
Motorhome Drafter (CAD & Vellum) - Architectural, Sheet Metal & Electro-Mechanical
Create Plumbing, LPG, Wiring, Harness, Cabinet & Countertop drawings to manufacture class "A" motorhomes.
Calculate & create cut lists (wood & steel) for shop use.
Perform GVWR & Tank Capacity calculations for state / federal approvals and owner's manual per ANSI-A119.2
Detail Truck Chassis(Chevy P318 or Gillig) modifications & exterior graphics.
RV Elevations per Y14.5-1973 On MEDUSA® CAD(Limited, Pace-Arrow, Southwind, Bounder, Jamboree, Tioga).

1981 - 1984 Zero-Stantron® Corporation Pacoima, CA
Engineering Designer (Vellum) - Electronic Enclosures/Sheet Metal Parts
Create and finalize designs of custom electronic enclosures, systems, and peripheral furniture.
Extensive telephone contact with suppliers, contractors, and consulting firms.
Detail flat patterns for production runs and assembly of NEMA® rated electronic enclosures & peripherals.
Submitted low-cost, high quality production package for the DEC VAX® 8600/11780 Standalone Mainframe.
Company awarded a three (3) year suppliers contract.
Designed the marble and chrome-facia security console in the lobby of the Whitfield-Wakeman Tower - Los Angeles, CA.
1979 - 1981 Barry Controls® Inc. Burbank, CA
Engineering Drafter (CAD) - Aircraft Parts (Noise & Vibration Control)
Create assembly, sub-assembly, detail, casting & forging drawings of aircraft parts IAW ANSI-Y14.5, DOD-STD-100C.
Write, incorporate and maintain ECR/ECO record retention center as well as Bills of Materials.
Certified member of the Lockheed Trident Missile Project Team.
Education
1996 San Bernardino Valley College Engineering & Drafting Technology
1987 San Bernardino Valley College CAD Design & Drafting
1978 Los Angeles City College Sheet Metal Theory (Mathematics) & Design
1965
Lawrence Technological University
Mechanical Engineering
Skills: Technical - Office
SPC (Motorola), TQM (Conway), ISO9001® Trained. MS-DOS® Windows® 2000; Office® 2000, HTML®, Certified Solid Works® User, Certified MEDUSA® 2D,3D, Parametric User & AutoCAD®.
Breast Pump (SolidWorks® 1999)
Piston, Toyota, 1600cc (AutoCAD v.14® 1999)
Power Steering Oil Cooler Lincoln Navigator-(SolidWorks® 2000)
By permission Thermal Dynamics® Corporation 1999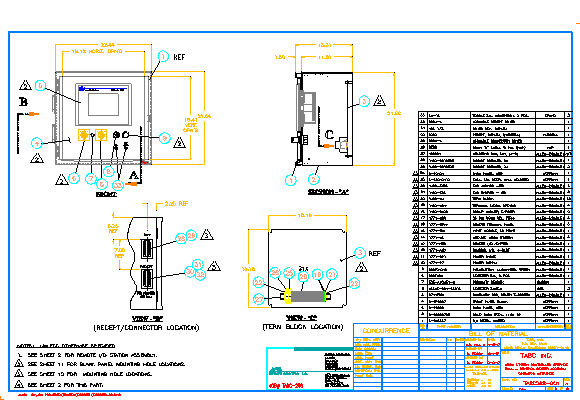 Toyota Allen Bradley PLC Paint Booth Controller Assembly
(By Permission - JCA Electron Co., Anaheim CA AutoCAD v.13® 1996)